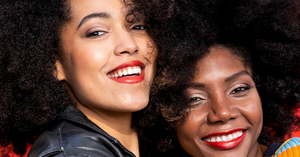 Nourish and Shine® Scholarship
QUEENS HELP QUEENS
We believe that beauty evolves from the inside out and we are committed to assisting our customers overcome their hair care challenges. Our passion continues to grow deeper. Today our goal remains unchanged: to empower beautiful transformations and create products that inspire confidence.
The Nourish & Shine Cosmetology Student Scholarship program is for people who identify as Black/African American.
KARLA MAIDEN-VAZQUEZ
Her motto is "Success is not linear, if we want to be able to reach our goals then we need to do everything in our power to preserve, move forward with tenacity, and to never let the hardships of this world shake who we want to be. Even in the face of adversity."
ANEEK COLBERT
Her motto is "Aneek Reaps Beauty Freak" when the name rhymes and the hair changes frequently.  "Different rare and I love switching up my style frequently. Be your best self every day."
We have partnered with the Beauty Changes Lives foundation to help support and inspire the next generation of beauty innovators.
Beauty Changes Lives was founded on the principle that " I am a beauty school graduate" is a phrase worth being proud to shout from the roof tops. We are committed to paying it forward through scholarships and philanthropic causes to the students, professionals and educators who are the Beauty and Wellness industry.Our mission is to create a movement that unites Beauty and Wellness Professionals and those we serve. Our vision is to Elevate, Educate and Expose the power of touch to transform careers, lives and communities.